PET WASTE REMOVAL HERNDON, VA
Herndon-area Pet Waste Removal
Who are we? Pet Domestic is the DC area's top-rated pet waste removal company. We take our work seriously, and we work to develop and maintain long term relationships with our clients. The owner-operator was born and raised in northern Virginia, and loves being able to serve the area's homes. We are a proudly local and independent company. We have a direct responsibility to our community.

Regular Schedule
We recommend atleast weekly service for most lawns and most of our customers' lawns are cleaned on a weekly or twice weekly basis. We also offer biweekly and one-time pet waste removal. Many one-time cleanings turn into regular customers, because once you realize a dependable and fair-priced company is ready to serve your home, why do it any other way?
Service Area
We regularly serve Herndon and the surrounding local area including Reston, Dulles, Sterling, Great Falls, along with the greater DC area. Check out our sign up page to see if we serve or will soon serve your area.
No contracts, No commitments
We're flexible and accommodate service pause or cancel requests without question. Our billing is pay-as-you-go, and we have no hidden or additional fees. We're a fair and local company and stand behind the quality of our work, and never play games.
We Love Dogs!
At Pet Domestic, we love dogs! Do you have a high-energy dog you're concerned leaving in the yard? We happily clean even with dogs in the yard without any issue. You can keep your dogs in your secured space without worry. We latch gates both on entry and exit, so your dogs are safe and secure. We look forward to meeting clients and dogs for introductions.
Price
Fair pricing is a concern for hiring the right pet waste removal company, and we offer not just the best service, but also the best prices for our area. If you find a better price, we're happy to match it, since we know we do the job better than any other company.
Support
We're always available through online support, direct phone call, email, or even text! Customer satisfaction is everything to Pet Domestic, and we proactively engage our clients with feedback to make sure we're serving you as well as possible.


Guarantee
Our cleanings are not only the best in the area, but also back by a simple 100% guarantee. If we missed a spot or you have notes for a future visit, we welcome the information and work to improve with every cleaning.
Year-round Clean
The area's weather is never predictable, but Pet Domestic's pet waste removal routes are! We work in all but the most dangerous conditions so your lawn is always at its best and ready for you. heavy snow may delay our work until roads are clear, but we're back to cleaning as soon as possible.


Billing
Pet Domestic offers simple no-contract, online subscription billing. We take security seriously, and our transactions are processed by Stripe which is most secure payment portal today.
Let's start today!
Are you ready to join the hundreds of other dog lovers who have thrown away that pooper scooper and always have a clean lawn? Just sign up online today and see the difference we make!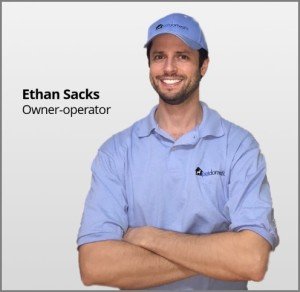 Ethan is the owner-operator of Pet Domestic Pet Waste Removal, the highest-rated service of its kind in the Washington, DC area. Read more

MORGAN F.
(BOXER)
"Absolutely love it and wish I had done it sooner."

FAYE J.
(ALASKAN MALAMUTE AND LABRADOR RETRIEVER)
"You have saved my family from endless arguments and annoyance. Greatest home service ever."

MORGAN F.
(TWO BOSTON TERRIERS)
"If you want a great, reasonably priced pet clean up service- you should definitely choose Pet Domestic."