PET WASTE REMOVAL LEESBURG, VA
What is pet waste removal? How does it work?
Pet waste removal is a simple service for all dog owners with a yard or space they want to keep clean. Pet Domestic visits your home during the day to remove all dog waste from your lawn. We take it away with us, so you never see it again!
Let's face it, dogs poop! Wouldn't you rather have all the dog and none of the dog poop? We gladly handle this unpleasant task of dog ownership.
How much do you charge?
Our prices are very fair, and are generally about $15-20 per visit for typical lawns. See our sign up page for an exact and instant quote!
Why should I choose Pet Domestic?
Because we're the best pet waste removal company in the area! Our prices are fair, and customer service is the best, and our cleaners are the most professional. Compare us to any other company, and we impress you. Many of our current customers come to us after poor experiences with other companies. Pet Domestic is an independent and locally responsible company.
What areas do you serve?
We serve all of the Northern Virginia area including many areas of Prince William County: Leesburg, Ashburn, Landsdowne, Brambleton, Aldie, Potomac Falls, and Sterling. We also serve most of DC and much of the MD area as well. Enter your zip code on our homepage and our system will tell you if we serve your region or hope to soon.
I have a friend nearby with a dog, how do I recommend your service? Do you offer a discount?
Yes (and thanks)! We offer 5% discount for each house within one-mile of your home.
Do I have to sign a contract? Are there any extra fees?
No and no. Our services may be paused or cancelled at any time, and you only pay for the service you receive. The price quoted is the price you pay. We typically bill in blocks of two weeks at a time.
Do you work in bad weather?
Yes! DC winters can be challenging, but we work in almost all conditions. Snow and rain may slow us down, but dogs don't stop pooping, so we don't stop working!
My dog is sometimes fearful. How do you work with me?
Pet Domestic gladly works with many kinds of dogs and homes. If you prefer to meet us first and make an introduction with your dogs, we will set up a meet and greet. We are also well-trained and experienced working with dogs of all temperaments. We work the same day each week, so if you prefer to keep your dogs inside on our cleaning day, you can make arrangements as well. Customer service is our forte.
Will you always lock up my gate? Can I trust your company?
Yes and yes! We always lock your gate on entry and exit so your dogs and property are secure.
Ready to throw away that pooper scooper and get on to more important things? Sign up with us today!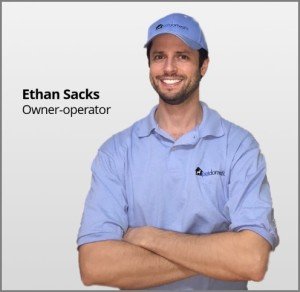 Ethan is the owner-operator of Pet Domestic Pet Waste Removal, the highest-rated service of its kind in the Washington, DC area. Read more

MORGAN F.
(BOXER)
"Absolutely love it and wish I had done it sooner."

FAYE J.
(ALASKAN MALAMUTE AND LABRADOR RETRIEVER)
"You have saved my family from endless arguments and annoyance. Greatest home service ever."

MORGAN F.
(TWO BOSTON TERRIERS)
"If you want a great, reasonably priced pet clean up service- you should definitely choose Pet Domestic."