PET WASTE REMOVAL WOODBRIDGE VA
Pet Waste Removal – Woodbridge VA
Our residential pet waste removal service offers Woodbridge a dependable and professional cleaning at an excellent rate. Life in the nation's capital area is hectic enough, and our home lives should be more manageable. Pet Domestic offers Woodbridge residents peace of mind and a solution to "who's turn is it to clean?"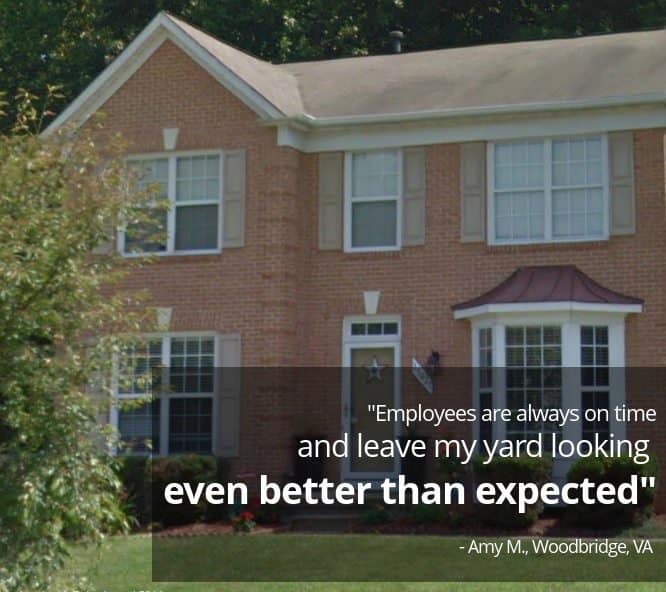 Regular Schedule
Woodbridge's location means our cleaning techs are always close by. We offer weekly and twice weekly service for this area. Our clients are often busy during the day time, and know they leave their lawns in good hands with Pet Domestic. Techs clean all pet waste from your property, and triple-lock gates so your property is safe and secure.

No contracts, No commitments
Pet Domestic gives you the best value for pet waste removal by being flexible with your calendar. Our regular cleaning schedule may be paused or canceled at any time. We know how frustrating some companies can be with cancellation policies. We are an honest and fair company and our customers only pay for services they receive.

We Love Dogs!
All Pet Domestic cleaning techs love dogs, so you can confidently leave them in the yard on our cleaning days. Have you been told by another pet waste removal company that your dog is, "too much to handle?" We respect and understand when a dog is territorial and look forward to establishing rapport. They'll feel safe and secure with us.

Service Area
We proudly serve the entire Woodbridge area's neighborhoods including: Lake Ridge, Dale City, Occoquan, Fort Belvoir, Montclair, and Lorton.

About Us
Who are we? Pet Domestic Pet Waste Removal is based in McLean, VA and serves the entire Washington, DC area. Our owner-operator was born and raised in the area, and is proud to help keep our lawns and waterways more clean. Pet Domestic is a locally focused small business. We are firstly responsible to our core group of regular customers.

Price
We aim for the best price along with the best service. Our rates are competitive with any other company's and if you find a better deal, we will happily meet it. Pet Domestic provides pet waste removal better than any other!

Support
Too many "service" companies put you through 30+ minute waits just to speak to a customer service representative halfway around the world. Crazy isn't it? Pet Domestic offers support through a progressive "pick up the phone" method. We are also always connected to our customers through lightning-quick email response. Try it and see for yourself!

Guarantee
We're confident we can make any dog-owner happy, and proactively work to solve issues before they happen. If for any reason you aren't 100% happy with our service, we will fix the problem immediately. If you're still not satisfied, we'll issue a full refund. We stand behind our work.

Year-round Clean
We work in the hot summer, the cold winter, and everything in between. We clean in the tough weather so Woodbridge families and dogs have a clean and healthy lawn to use after the storm! We only postpone our schedule for dangerous snow and ice, and work immediately to get back to our routine when roads are safe.

Billing
Payment information security is extremely important to us. Online payments are secure and processed with SSL security. We accept all major forms of credit and debit through Stripe and can accept credit cards on site.

MORGAN F.
(BOXER)
"Absolutely love it and wish I had done it sooner."

FAYE J.
(ALASKAN MALAMUTE AND LABRADOR RETRIEVER)
"You have saved my family from endless arguments and annoyance. Greatest home service ever."

MORGAN F.
(TWO BOSTON TERRIERS)
"If you want a great, reasonably priced pet clean up service- you should definitely choose Pet Domestic."